To the Newly Bereaved Parent: You Are Not Alone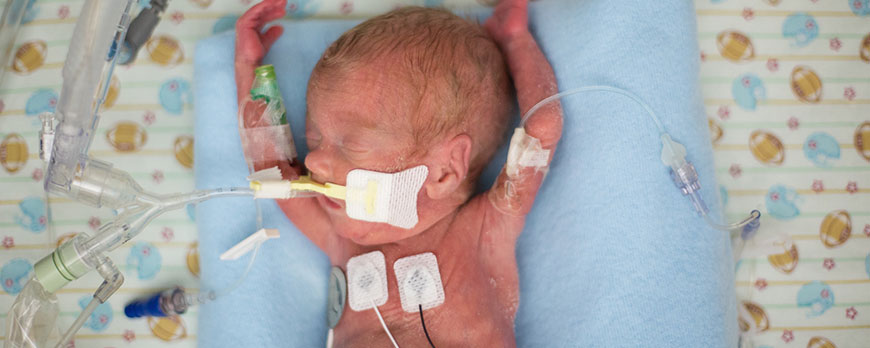 It?s a club no one wants to join, yet so many people are part of. We are all brought together by one common event, one many of us would consider to be the worst day of our lives. And while it may seem like your world is caving in, this club is living proof you will survive. To the newly bereaved parent: you are not alone.
When I became pregnant with triplets, the last thing on my mind was the possibility that any one of them could die. I spent my days basking in the pregnancy glow and indulging in a plethora of cravings, from chocolate to popcorn and donuts. At 18 weeks gestation, I came close to losing my triplets, but thanks to emergency surgery, this was just a scare. Even as complications piled up, my outlook remained rosy. Bad things didn?t ? couldn?t ? happen to me. That was until June 23, 2013 when my children were born more than 17 weeks premature.
My daughter, Abigail, gave a kick and a squeak as she arrived at just over a pound. In a matter of minutes, though, it was apparent to doctors she wouldn?t survive. Abby passed away in my arms less than two hours after she entered the world, and in that moment, my world came crashing down. My husband and I would experience that same numbing pain nearly two months later when our son, Parker, passed away as well.
In the early weeks, I was in a daze. My head was cloudy as I simply went through the motions of everyday life. At 22 weeks gestation, I should have been decorating their nursery, not planning funerals two months apart.
Those early days were claustrophobic, as if death had a tight grip around my soul. My body was like a car on cruise control as I went back and forth between my home and the hospital, trying to stay strong for my lone surviving triplet. But truth be told, I didn?t want to get out of bed. The weight of my losses overpowered me and many days it was a physical struggle to even get up in the morning.
Friends, family and thousands of supporters texted and emailed me. Cards and flowers were arriving daily to my door. Thousands of notes of condolences awaited me, yet I refused to read them. I didn?t want to come to terms that two of my children were gone ? a realization that still brings a river of tears to my eyes years later.
As I closed myself off to everyone except my husband, the notes and texts didn?t stop. My close friends would check on me daily, knowing their voicemail would not be returned. But that didn?t stop them. They knew eventually I would need a shoulder to cry on, and they patiently waited. I may have felt helpless, surrounded by a sea of sorrow, but it was then that I realized I was not alone.
As the months passed by, I was able to find my new normal. The tears and sadness, mixed with happiness, became my daily routine. A big part of me I?d lost months ago slowly resurfaced; the smiles and laughter once again graced my face as I learned how to live with the loss of two children without losing myself. And while the phone calls and texts subsided, I found comfort in knowing my family was often in the thoughts and prayers of others. Occasionally, I would receive an email out of the blue ? a message from a friend who didn?t initially reach out. I learned through others the death of a child is hard to comprehend. While some people instantly offer condolences, others don?t know what to say or how to react. I realized I had an army of silent supporters, another sign I was not alone.As I close in on three years since my first triplet passed, I have found I will never be alone. That child loss club no one wants to be part of has become a blessing in disguise. Friendships have formed through our common bond, as we have learned to lean on each other to get through this roller coaster of a life.
To the newly bereaved parent, please know you will survive. When you lose a child, you lose a piece of your soul. You will never forget your precious angel; instead, you learn how to love those both here on earth and in heaven. As you try to find your way through a jungle of sadness, don?t lose hope.
Πηγή: The Mighty